But my manager called me last night and said not to come in because it's gonna be a slow day. That's what always happens when the weather is funky..no one wants to get their hair done because the rain will mess it up! The salon biz has it's ups and downs..Jan. and Feb. are always known for being 'slow' months because it's right after all the busy holidays.
Anyhoo..I thought since I have this extra day off I would post a little bit about 'me', my life and pretty much anything I feel like! If you're not into the whole 'getting to know you' type of thing..I totally understand... you can just scroll down and take a peek at my sneak peek! :)
So last night I couldn't sleep and I heard this little birdy chirping outside my window at midnight! I thought 'why is this birdy chirping so late at night??'..is he trying to find his buddies..or maybe spring is almost in the air! ((I hope!..I'm tired of having to turn on the heater))..since I couldn't sleep, I also learned a new thing about little Natalie...she sleep talks! lol..well she can't really 'talk' just yet, but it was more like baby sleep talking! lol...speaking of little miss sunshine, her favorite word right now is "Yeah". She's really starting to understand a lot more ((she's one))..everytime we ask her a question she says "yeah!"...like..
Me: Natalie are you cute?
Natalie: "yeah"
Me: Are you hungry?
Natalie: "Yeah!"
Me: Did you go poo?
Natalie: "YEAH!!"
lol...
She's so cute!
This is totally giving me an idea for a layout!
Speaking of layouts, I just finished a SUPER cute one, but I'm not going to show you all just yet becuase I decided to try out for the
Inspired Blueprints
DT.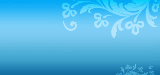 I don't know if I'm 'good' enough for their DT ((those ladies are reallllly talented!)) but I thought I would give it a shot, plus if I make the DT I will finally have a good excuse to start scrappin' my millions of pictures! Wish me luck! :) :)
So, the reason I was suppose to be at work today ((I ususally don't work Thursdays)) is because I am going to the
Scrapbook Expo
on Saturday and I needed the day off! Woohoo! Me and my sis
(Sandra)
are carpooling and will most likely come home with a car load of new scrappin' goodies!! Eeeekk! I can't wait! We might even meet up with some SoCal scrappy gals! It's gonna be fun!! I'm hoping I can find a good deal on ink pads..my stash is really low and I would LOVE some new different colors and I'm hoping to find some more We R Memory Keepers paper and hopefully some Echo Park!
Another reason I decided to make this little post today was to share a few blogs (that are 'new' to me) that I've been stalking lately..lol..these bloggers/crafters are AMAZING and I wanted to share their goodness with you all so you can stalk them too! tee-hee...
First up..
Happy Life. Crafty Wife.
I just love, love, loooove everything Tamara makes with her Cricut! She is so freakin' talented and I totally love her style! Go check her out, you won't regret it! :)
Next up..
Dear Lizzy
Hmmm..what could I say about Miss Lizzy other than she is super talented, she makes the most perfect scrapbook layouts and has the most adorable little girls in the world! ((besides my Natalie of course!)) I have one of her
books
and I always turn to it for inpsiration..go check her out and DEFINITELY stalk!
3rd up..
Shanty 2 Chic
Here's a great blog for all you home decorators out there. These 2 sisters come up with the MOST amazing projects and home decor things, I have found myself stalking them almost every day and I just love all of the inspiration they give to everyone who wants to spruce up their home!
Please go follow and stalk now! lol..
Ok, last but definitely not least..
Paper Smooches is a brand spankin' new line created by miss
Kim Hughes
who is a BIG thing in the carfting world! Her
new stamp line
is sooo cute and it's really hard to resist buying all of them, but I'm saving my pennies for the Scrapbook Expo! Anyhoo go check out
Paper Smooches
and you will definitley become inspired by her talented DT! Also miss Kim and
EAD Designs
have something in common, but I can't tell you just yet!
Speaking of EAD, I've been working on a fun project for Natalie's room using the fabulous EAD vinyl, it includes a LOT of pink, some flowers and the most adorable little owly, here's a peek...
I will be posting about it tomorrow, so stay tuned!
Yes those are PINK acrylic blocks! woot woot! Loving these! Thanks Kathy! You can get yours HERE! I just LOVE my PKS family!
Ok, I think that rounds up everything for today..
Thanks for listening! :)