Hey there! Wow this week has flown by! It's been a very scrappy week for me, I think I will take the weekend to relax! :) ....so today is the 17th
Let's Face it Friday Challenge
at the Peachy Keen challenge
blog
. This week the theme is to
create a patriotic card representing your country.
Remember to join in this challenge you have to use a PKS face on your project!
Here's my shape card, representing the good ol' U-S-of-A!
I'm lovin the way this turned out! It was a fun one to make too! Here's some details..
The little boy is from the Playtime cartridge..his flag was acutally a net, but I thought it looked close enough to a flag, and it worked! The star I cut from A Chlid's Year, but I think there are a few stars on other carts too. I wanted a zigzagy scallop circle and the only cartridge I found that on was the Easter 2010 seasonal cart..and the 'freedom' is from the Graphically Speaking cartridge.
The pattern papers are from a few differnet collections..MyMindsEye, MarthaStewart, K&Co..and the 'freedom' is on glittery white cardstock (but it's kinda hard to tell). And the USA stickers are by Cosmo Cricket.
The face I used is from the
PK-460 Happy Lashes
assortment..I think those are my current favies right now...lol..I hope you like it!
Come join in the challenge..one random winner will be picked to win the new
Sampler Face Pack
and the super cute
Skunk
set!!
*******************
Today is also a new Isabel's Umbrella sticker release day at EAD Designs..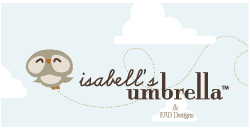 It doesn't get much cuter than that!
Here's a little 3x5 card I whipped up for some inspiration..
and remember at EAD...
Have a great weekend!